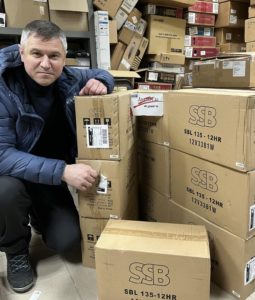 Since October 2022, Russia has been targeting critical civilian infrastructure in Ukraine with its missiles and drones. Attacks have degraded electricity generation and distribution, cutting off power and thereby heating, water treatment and Internet connectivity for millions of people. Rolling electricity blackouts lasting anywhere from several hours to days are making this brutal conflict even harsher. Even if the war was to stop tomorrow, damage to electricity power plants and distribution networks will persist. One of the ways eQualitie is responding to this crises is by supplying small Internet service providers (ISP) with batteries to help them power their local (fibre optic) networks during electricity outages. We have already delivered a 7 tonne shipment in December.
The donated batteries have been in use since December 2022. Chernihiv, the regional center located in northern Ukraine, was almost surrendered by the Russian military since the first days of aggression. City infrastructure has been heavily destroyed due to constant bombardments. Even during the combat in Feb-March ISP Osnova had provided internet and cable TV services to more than 50 thousand households in Chernihiv. Dmytro Samsonenko, the director of ISP Osnova, shares his feedback on the usage of donated batteries during outages:
Our SBL batteries are connected to the EASUN ISOLAR-SMG-II-3.6KW-WIFI inverter, the system capacity is approximately 3 kWh (135 Ah at 24 V).
The system is installed at the district-level node, which provides television and internet connection for 185 residential buildings in Chernihiv. The capacity of the batteries is enough for 16 hours of continuous operation of the equipment in the event of an outage of the node.
WE NEED YOUR CONTRIBUTION TO SEND A SECOND DELIVERY !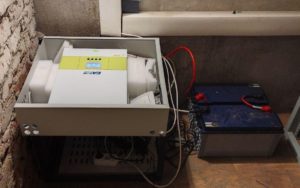 Please make a donation today to support this procurement. Our goal is to collect $25 000, which will help to buy 150-170 individual batteries to serve the needs of around 30 ISPs. All contribution matters! More than 1500 ISPs work in Ukraine, this market is diverse and the smallest ISPs provide services to a few residential buildings. Thus, the need for batteries remains high.
100% of your donation will go towards the batteries' purchase. We have an established logistics pipeline with DACPOL and customs importing and road freight assistance from DEPS. In Ukraine, the Ministry of Digital Transformation works with local ISPs on delivery, verification and reporting.
Donate now!
Please, fill in the form needed for donation
We also accept donations in BTC: bc1qre02fd4w6nvl7eq44456z03h25fvnuzjms28p9
eQualitie Org is a Canadian registered non profit corporation (1191545-2) with business number 745963470RC0001