Until recently, if someone wanted to be sure that their communications could only be read by themselves and their addressees, they had to face the steep learning curve required by encryption tools like GPG or OTR. As efficient as they are in enabling an end-to-end encrypted communication, these tools are problematic for anyone who needs to communicate efficiently and securely in a high-risk or emergency setting where there is no time for learning how to use a complicated technology. To solve this problem, a range of new, more usable encryption tools has started to be developed. This is where Peerio enters the scene.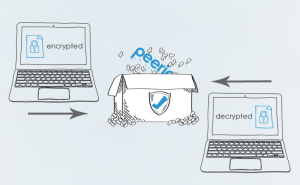 First launched in January 2014 and currently counting 17,000 users, Peerio is a tool to send encrypted messages and files, developed with the aim of making encrypted communications attractive and accessible to people of all skill sets and backgrounds. From its intuitive interface to its rapid search of messages and documents, up to its passphrase generator, Peerio puts a strong emphasis on usability in every possible detail, thus simplifying the workflow and mitigating the risks related to user error that are often connected to traditional end-to-end encryption tools.
The encryption of messages and files (which is client-side, so the server cannot decrypt anything) does not rely on a private key that could get lost, but on a mechanism based on the user's passphrase. When you create a Peerio account, a long random passphrase is generated for you. This passphrase is made up of 5 words selected by the client's passphrase generator from a dictionary of 12,000 commonly used words, which makes it easier to remember (but you can also generate a shorter password that will only work in the device where you've generated it and store the longer passphrase in a password manager). The 5-words passphrase and your user name are all you need to access your account wherever you are, from any computer.
Localized in 12 languages, and available for Mac, Windows and Linux, the client will be soon released for Android and iOS too. Peerio's development is particularly oriented towards facilitating collaboration and group communication: already groups can share files in Peerio and easily search through them, and in the future Peerio's team is planning to add new features such as shared folders and documents and collective notes. Peerio client's code has been audited (PDF) and is available on Github.