StoryMaker is an open source app helping anyone learn to make great multimedia stories and safely produce and publish them with their mobile device, in a privacy-preserving fashion that ensures they can share and publish their stories where they wish, despite the threat of censorship. The final release out of beta comes with the inclusion of a Catalog of new content packs. Content packs provide Lessons, Guides, and Templates for creating new stories. Once templates, guides, or lessons have been downloaded, the user may learn and make stories completely offline, as well as sharing stories via bluetooth or other means that don't require the Internet. Users may publish their stories online to a variety of outlets, with built-in support for Tor. Currently users can publish over Tor to Facebook, YouTube, Flickr, Soundcloud, Archive.org and private SSH servers.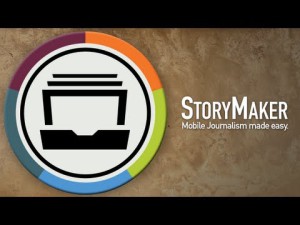 StoryMaker is brought to you by the StoryMaker Coalition. The StoryMaker Coalition is a collaboration between Small World News, Scal.io, The Guardian Project and Free Press Unlimited to develop and implement the StoryMaker application. The Coalition has trained more than 700 journalists, human rights defenders, and aid workers active in more than 20 countries. At the time of writing, the StoryMaker app has been downloaded by more than 140,000 users around the world, including journalists, civil society members, and activists.
StoryMaker's libraries provide open source tools for others to add functionalities to publish content safely and securely to a variety of platforms, as well as distribute interactive learning content directly to individual users. StoryMaker enables citizens anywhere to tell their stories despite the threat of surveillance and censorship. The app puts the work of many developers and organizations on digital security into a specific and important context: amplifying the voices of marginalized communities by providing them the skills to tell their stories and the access to ensure they are heard. To underscore this point, Natasha Msonza from Zimbabwe, one of the many trainers using StoryMaker around the world, will join the speakers from the StoryMaker Coalition in the presentation.